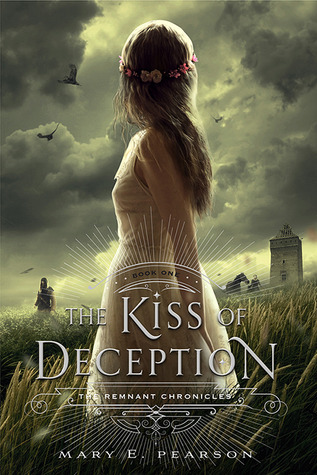 Title: Kiss of Deception
Author: Mary E Pearson
Series: 1st
Pages: 486
Published: July 8th 2014 by Henry Holt and Co.
Source: Publisher via Netgalley
Description:
A princess must find her place in a reborn world. She flees on her wedding day. She steals ancient documents from the Chancellor's secret collection. She is pursued by bounty hunters sent by her own father. She is Princess Lia, seventeen, First Daughter of the House of Morrighan. The Kingdom of Morrighan is steeped in tradition and the stories of a bygone world, but some traditions Lia can't abide. Like having to marry someone she's never met to secure a political alliance. Fed up and ready for a new life, Lia flees to a distant village on the morning of her wedding. She settles in among the common folk, intrigued when two mysterious and handsome strangers arrive—and unaware that one is the jilted prince and the other an assassin sent to kill her. Deceptions swirl and Lia finds herself on the brink of unlocking perilous secrets—secrets that may unravel her world—even as she feels herself falling in love.
I Give This ...

This one kind of surprised me. I wasn't sure what to think of it and first, and had a little bit of a hard time with the different view points (I'm not a huge fan on more than 2 points of view). In the end, I was won out by the story, however I want more fantasy and less romance.
I liked Lia almost immediately. She's willing to give up everything, defy and father and her kingdom by refusing to marry the person chosen for her. Granted I think part of her acted a little rashly. I think most of her decision to run was based on not wanting to marry a person who really only existed in her head. It was less to do with the actual person and even less to do with what may or may not have been happening right beneath her father's nose. She just came across and excellent bargaining tool.
I was a little disappointed that the story seemed to focus more on the romance and less on the fantasy. But, I will admit that I kind of got wrapped up in it. Mainly because I honestly had no idea who was who. I liked that the princess had one point of view and that she favored one over the other. But, our other two points of view are from the prince and the assassin with no idea which one belonged to which name the princess knew them as. I would think I had it but then they would do something that would lead me to doubt.
I did think the latter part of the book was more action and last romance, although I was still unsure at our assassin's true feelings. It leaves many open doors. There's a lot of story elements that are still missing, so I hope the story focuses less on the romance and gets down to business. I think that there is a lot of potential here.