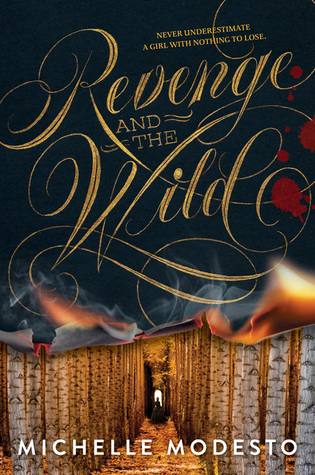 Title: Revenge and the Wild
Author: Michelle Modesto
Series: Stand Alone
Published: February 2nd 2016 by Balzer + Bray
Source: Publisher via Edelweiss
Description:
The two-bit town of Rogue City is a lawless place, full of dark magic and saloon brawls, monsters and six-shooters. But it's perfect for seventeen-year-old Westie, the notorious adopted daughter of local inventor Nigel Butler.
Westie was only a child when she lost her arm and her family to cannibals on the wagon trail. Nine years later, Westie may seem fearsome with her foul-mouthed tough exterior and the powerful mechanical arm built for her by Nigel, but the memory of her past still haunts her. She's determined to make the killers pay for their crimes—and there's nothing to stop her except her own reckless ways.
But Westie's search ceases when a wealthy family comes to town looking to invest in Nigel's latest invention, a machine that can harvest magic from gold—which Rogue City desperately needs as the magic wards that surround the city start to fail. There's only one problem: the investors look exactly like the family who murdered Westie's kin. With the help of Nigel's handsome but scarred young assistant, Alistair, Westie sets out to prove their guilt. But if she's not careful, her desire for revenge could cost her the family she has now.
I GIVE THIS ...
This is probably the fastest I've finished a book in awhile. It kept me up at night, messed with my brain in the form of some crazy dreams, and finished with a bang!
I'm still not sure I'm crazy about Westie. She's a little to head strong for me. But, I have to admire her shear determination to get her revenge on the family that killed hers. And lets all admit, this was no ordinary murder. I don't think I've ever read a book based around cannibalism! And this was not glossed over in an way. That's were it really messed with me.
The setting was a little bit much for me. It was hard for me to get a real handle on this western world that was full of steampunk, magic, and every mythical creature imaginable. It made for some interesting twists to the story though, because the story would not have been the same without most of these elements!
I really loved the secondary characters. Nigel was the perfect father figure and he tried really hard not to put up with Westie's bullshit. I loved Alistair. I knew exactly were the story was going with him, but I enjoyed the build up immensely. But honestly, my favorite was James. He character literally blew me away.
I highly recommend this if you are looking for something totally different!