The weekly
FRIDAY FINDS
event asks you to share with other bloggers about the new-to-you books you found during the week — books you either want to add to your TBR (
to be read
) list, or that you just heard about that sounded interesting.  This event is hosted by MizB over at
Should Be Reading
.
My finds this week are  (a couple of them aren't out yet but I've added them to my to read list so I can look for them later)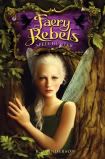 Spell Hunter (Fairy Rebels #1) by R.J. Anderson
     As the Faery Queen's appointed Hunter, Knife alone has the courage and skill to fight the crows and other predators who threaten the Oakenfolk's survival. Yet neither she nor the Queen can do anything to stop a mysterious magical disease from claiming the faeries of the Oak one by one.
     But there are humans at the bottom of the garden, and a glimpse inside their House convinces Knife that they have powers and knowledge that could help her people. Still, if the human world has so much to offer, why is the Queen determined to keep the faeries away from it? Is there a connection between the House and the Oakenfolk's loss of magic? And why is Knife so drawn to the young Paul McCormick — that strangest of creatures, a human male?
      Knife determines to learn the truth about the Oakenfolk's relationship to humanity, no matter what the Queen might do to prevent her — a quest which threatens the growing friendship between herself and Paul, puts both their lives in jeopardy, and challenges everything Knife has ever believed about humans, faeries, and her own heart's desire. And when at last Knife discovers the secret the Faery Queen has been hiding, she is forced to make an agonizing choice between love and freedom that will change her life, and the lives of her people, forever.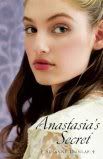 Anastasia's Secret by Suzanne Emily Dunlap 
     The youngest grand duchess of the imperial family comes of age during the revolution. Her family is imprisoned, conditions become worse and worse.
     But Anastasia has a secret that she keeps from her family, a love that endures through the horrors of war and the privation of imprisonment and deprivation.
     Will her love save her from the fate her family seems destined for? Or is she a creation of a rarefied atmosphere, unable to survive without her loved ones?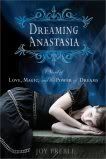 Dreaming Anastasia: A Novel of Love, Magic, and the Power of Dreams by Joy Preble
      Sixteen year old Anne thinks her life is pretty ordinary – until she smacks into handsome, mysterious, and okay, annoying Ethan on her way to chemistry class. Now Anne has powers she doesn't understand, a history altering mission she may not want, and a growing attraction to this blue-eyed stranger. And Ethan- who at eighteen made some choices he's starting to regret – realizes that Anne is the girl for whom he's been searching – for a very, very long time. Stir in doomed Russian Grand Duchess Anastasia – who is definitely not quite as dead as the history books say – and Baba Yaga, the legendary witch from Russian folklore, and you've got DREAMING ANASTASIA, a contemporary YA fantasy that alternates between the voices of Anne, Ethan, and Anastasia as Anne and Ethan join forces to battle the bad guys and save Anastasia. Only problem is – no one's quite sure who's really bad and who's good. And everyone has some secrets.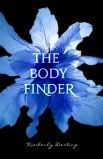 The Body Finder by Kimberly Derting
     Violet Ambrose is grappling with two major issues: Jay Heaton and her morbid secret ability. While the sixteen-year-old is confused by her new feelings for her best friend since childhood, she is more disturbed by her "power" to sense dead bodies—or at least those that have been murdered. Since she was a little girl, she has felt the echoes the dead leave behind in the world . . . and the imprints that attach to their killers.
     Violet has never considered her strange talent to be a gift; it mostly just led her to find dead birds her cat had tired of playing with. But now that a serial killer has begun terrorizing her small town, and the echoes of the local girls he's claimed haunt her daily, she realizes she might be the only person who can stop him.
     Despite his fierce protectiveness over her, Jay reluctantly agrees to help Violet on her quest to find the murderer—and Violet is unnerved to find herself hoping that Jay's intentions are much more than friendly. But even as she's falling intensely in love, Violet is getting closer and closer to discovering a killer . . . and becoming his prey herself.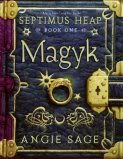 Magyk (Septimus Heap #1) by Angie Sage
     The seventh son of the seventh son, aptly named Septimus Heap, is stolen the night he is born by a midwife who pronounces him dead. That same night, the baby's father, Silas Heap, comes across a bundle in the snow containing a new born girl with violet eyes. The Heaps take this helpless newborn into their home, name her Jenna, and raise her as their own. But who is this mysterious baby girl, and what really happened to their beloved son Septimus?
     The first book in this enthralling new series by Angie Sage leads readers on a fantastic journey filled with quirky characters and magykal charms, potions, and spells. Magyk is an original story of lost and rediscovered identities, rich with humor and heart.