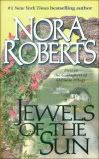 I give this Book 3.5 stars!
Description: With her life in turmoil after a failed marriage and growing disappointment over her career, Jude Murray sets off on a journey to Ireland. To her grandmother's cottage on a faerie hill in Ardmore. There she hopes she will be able to find herself again.
But the mystic charm of Ardmore grows on Jude - as does the handsome and kind pub owner, Aidan Gallagher. She soon finds herself caught up in the charm and fantasy of the land and people around her, challenging her beliefs and all that she thought she wanted out of life.

I don't read romance that often.  It's not that I don't like them, it's just that I usually enjoy other books more.  I love the series "In Death" published under J.D. Robb, so every once in a while, I'll pick up a Nora Roberts book.  I always enjoy them, I just don't usually seek them out.  This was no exception.  It was a really good for a romance book.  I  loved the Irish parts of it.  Now some people I'm sure hate the Irish cliches, but in a book like this I think it's wonderful.  I love the setting, the folklore, and the people.  And the romance part wasn't to over the top for me.  It's part of a series, but I think it works as a stand alone book as well.  While the main characters in #1 are still in #2, they are no longer the focus.  And I assume the same for #3.