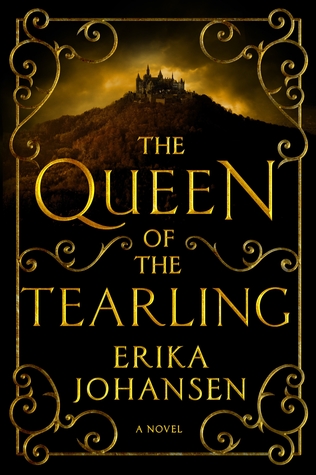 Title: The Queen of the Tearling
Author: Erika Joansen
Series: 1st
Pages: 448
Published: July 8th 2014 by Harper
Source: Publisher for Arranged Tour
Description:
On her nineteenth birthday, Princess Kelsea Raleigh Glynn, raised in exile, sets out on a perilous journey back to the castle of her birth to ascend her rightful throne. Plain and serious, a girl who loves books and learning, Kelsea bears little resemblance to her mother, the vain and frivolous Queen Elyssa. But though she may be inexperienced and sheltered, Kelsea is not defenseless: Around her neck hangs the Tearling sapphire, a jewel of immense magical power; and accompanying her is the Queen's Guard, a cadre of brave knights led by the enigmatic and dedicated Lazarus. Kelsea will need them all to survive a cabal of enemies who will use every weapon—from crimson-caped assassins to the darkest blood magic—to prevent her from wearing the crown. Despite her royal blood, Kelsea feels like nothing so much as an insecure girl, a child called upon to lead a people and a kingdom about which she knows almost nothing. But what she discovers in the capital will change everything, confronting her with horrors she never imagined. An act of singular daring will throw Kelsea's kingdom into tumult, unleashing the vengeance of the tyrannical ruler of neighboring Mortmesne: the Red Queen, a sorceress possessed of the darkest magic. Now Kelsea will begin to discover whom among the servants, aristocracy, and her own guard she can trust. But the quest to save her kingdom and meet her destiny has only just begun—a wondrous journey of self-discovery and a trial by fire that will make her a legend…if she can survive.
When I first agreed to be part of this tour, I had no idea that hype that already surrounded it. I'm not one to follow books that have 7 figure movie right deals before they are even published. That's a lot riding on this little book (and I'm not referring to it's page length).
I'm honestly glad that I didn't know all that because I think I was able to enjoy this book for what it was, and interesting mix of genres that I finished in 3 days flat.
Princess Kelsea is one of the most interesting characters I've ever been introduced to. She's been raised to be Queen, taught in all matters that she may need to rule her kingdom. Sadly, I think her education is slightly skewed to one couples opinions and majorly lacking in details. How is she suppose to rule a kingdom with no prior knowledge of its inhabitants, trades, costumes, etc. For awhile this really bugged me because I felt that Kelsea wasn't given the adequate tools to move forward. Did no one expect her to live long enough to actually rule?
I found the world building interesting. It's very easy to misread this and think this is a fantasy set in medevil times, and I think some discrepancies in that might cause people to become frustrated. It's actually set way in the future, but society had reverted back to a medevil state, so there are some modern terminology. I really enjoyed that mashup, although I wish it was explained more how the world came to this state. The book occasionally takes about the landing, a new world, and old Europe, and old America but I'm not sure when some events take place relative to the events in the book. And I would really like to know were this world is compared to the world we know now.
I loved some of the secondary characters. Mace is the Chief of the Guard and he's kind of a mystery at this point. These men have sworn their allegiance to the Queen, but really to Kelsea. I think at first Mace especially didn't take Kelsea seriously. But then again, she hadn't done anything to prove she was worthy of wearing the crown. Mace is still hiding a lot from Kelsea though, and I'm not sure why he's allegiance includes not telling Kelsea anything about her mother. I also really enjoyed The Fetch. He's character is even more mysterious than Mace's but there's something fascinating about him. I'm curious as to who is and what his role will be in this story.
I'm not so certain our villain is the Red Queen. Sure she's ruthless and has a death grip on her kingdom and the neighboring ones. But, I don't think she's the one in complete control. I also find it strange that she has no name. It makes me wonder if anybody outside her castle walls have seen her face. There's also a whole lot of magic at work there, that the full picture hasn't come into focus yet.
I was truly drawn in to this story. It was fast paced enough that I blew through it. Kelsea has a lot to prove in a short amount of time and I enjoyed her ride to get there. I'm looking forward to the rest of this series and what might come of a movie deal.