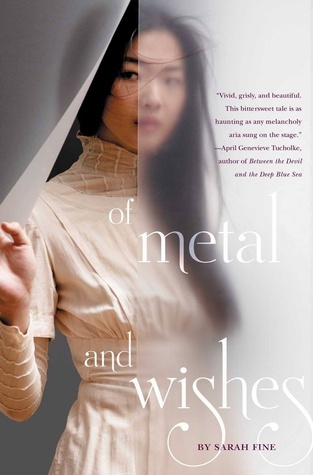 Title: Of Metal and Wishes
Author: Sarah Fine
Series: 1st
Pages: 320
Published: August 5th 2014 by Margaret K. McElderry Books
Source: Publisher via Edelweiss
Description:
There are whispers of a ghost in the slaughterhouse where sixteen-year-old Wen assists her father in his medical clinic—a ghost who grants wishes to those who need them most. When one of the Noor, men hired as cheap factory labor, humiliates Wen, she makes an impulsive wish of her own, and the Ghost grants it. Brutally. Guilt-ridden, Wen befriends the Noor, including their outspoken leader, a young man named Melik. At the same time, she is lured by the mystery of the Ghost and learns he has been watching her … for a very long time.As deadly accidents fuel tensions within the factory, Wen must confront her growing feelings for Melik, who is enraged at the sadistic factory bosses and the prejudice faced by his people at the hand of Wen's, and her need to appease the Ghost, who is determined to protect her against any threat—real or imagined. She must decide whom she can trust, because as her heart is torn, the factory is exploding around her … and she might go down with it.
I Give This ...

I can tell you one thing, this book is unlike anything I've read this year. And that in itself is amazing. To be original is a feat in itself since book topics tend to come in waves. On top of that, I really enjoyed the story.
At first, I wasn't sure what to think of Wen. She came across as extremely protected which seemed strange in such an intense environment. As the story goes on, I came to realize that this wasn't suppose to be how Wen's life ended up. But, the death of her mother left her family in a situation she wasn't use to. I don't think Wen was purposely naive enough to not see it, her father was just that good at hiding it. Just as Wen is good at hiding that she knows her father has been taking loans from the slaughter-house. Loans with such high interest rates that he will forever indebted. All just to keep her out of the clutches of the slaughter-house.
I found it extremely interesting the slaughter-house operates more like a contained environment and not just a place of employment. But, there's mutiny in the ranks and soon this carefully constructed environment will have all hell break loose. Our "ghost" is way more than just a story the workers tell to keep up spirits. This ghost has a vendetta and Wen has attracted his attention.
An intense story once it gets going. It has some intense scenes including a malfunction on the slaughter floor. This book also seems to defy a category. It feels dystopian, historical fiction, and steampunk all rolled into one strange but awesome novel! I also really enjoyed the subtle romance. Looking forward to next book in the series!