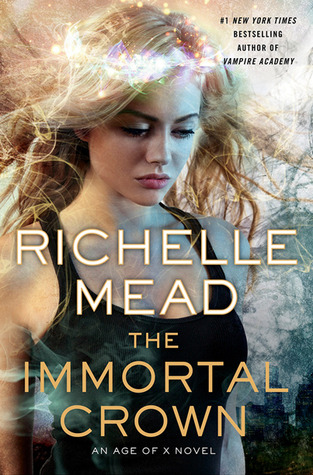 Title: The Immortal Crown
Author: Richelle Mead
Pages: 432
Published: May 29th 2014 by Dutton Adult
Source: Publisher via Netgalley
Description: Gameboard of the Gods introduced religious investigator Justin March and Mae Koskinen, the beautiful supersoldier assigned to protect him. Together they have been charged with investigating reports of the supernatural and the return of the gods, both inside the Republic of United North America and out. With this highly classified knowledge comes a shocking revelation: Not only are the gods vying for human control, but the elect—special humans marked by the divine—are turning against one another in bloody fashion. Their mission takes a new twist when they are assigned to a diplomatic delegation headed by Lucian Darling, Justin's old friend and rival, going into Arcadia, the RUNA's dangerous neighboring country. Here, in a society where women are commodities and religion is intertwined with government, Justin discovers powerful forces at work, even as he struggles to come to terms with his own reluctantly acquired deity. Meanwhile, Mae—grudgingly posing as Justin's concubine—has a secret mission of her own: finding the illegitimate niece her family smuggled away years ago. But with Justin and Mae resisting the resurgence of the gods in Arcadia, a reporter's connection with someone close to Justin back home threatens to expose their mission—and with it the divine forces the government is determined to keep secret.
I Give This ...

I wasn't completely sold on Gameboard of the Gods, so I'm not entirely sure why I picked the second in the series up for review. Perhaps it simply because I'm draw to Gods and Goddesses and it still had some potential. In this case, I'm glad I didn't give up because it was better than the first one.
I think I liked Justin and May's interactions more. They are trying so hard to pretend they aren't completely head over heals for each other, that sometime a lot of it just gets in the way. But this time around, they are required to pose as a couple. I think it forces them to think and act in ways that they've spend forever repressing. Plus, it was interesting to learn about their personal God and Goddess and how they related to each other. The big picture is much more intertwined than I thought.
I'm curious as to Lucian's involvement in this whole thing. For most of the first book I wrote him off as just a person in the background. But, I think he is a far bigger player than anyone knows. He's way to subtle, but he may have tipped his hat when it came to this big trip into Arcadia. He's looking for more than just an age to push over the top in politics. I have not quite pegged if he's going to work out to be the bad guy. I hope not, because I think he's far more useful in Justin's corner.
I liked the drama with Tessa. I knew that getting mixed up with the reporter was a bad idea. I think she knew it deep down as well. But, she was determined to prove her worth and couldn't possibly imagine what Justin could be mixed up in that would be beneficial. But, most of the time it's always about who you know.
I'm hooked now, so I am eagerly awaiting book 3. There is something big in the works and the gods and goddesses aren't done playing games yet. They have been so subtly through most of the series, that I'm waiting for that big moment!