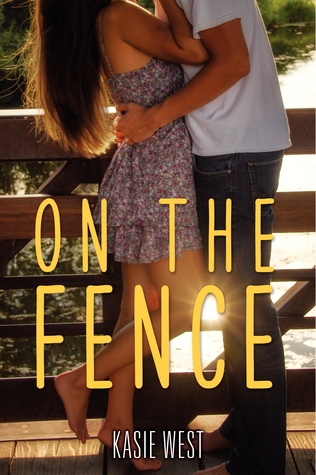 Title: On The Fence
Author: Kasie West
Series: Stand Alone
Pages: 296
Published: July 1st 2014 by HarperTeen
Source: Publisher via Edelweiss
Description:
For sixteen-year-old Charlotte Reynolds, aka Charlie, being raised by a single dad and three older brothers has its perks. She can outrun, outscore, and outwit every boy she knows—including her longtime neighbor and honorary fourth brother, Braden. But when it comes to being a girl, Charlie doesn't know the first thing about anything. So when she starts working at chichi boutique to pay off a speeding ticket, she finds herself in a strange new world of makeup, lacy skirts, and BeDazzlers. Even stranger, she's spending time with a boy who has never seen her tear it up in a pickup game. To cope with the stress of faking her way through this new reality, Charlie seeks late-night refuge in her backyard, talking out her problems with Braden by the fence that separates them. But their Fence Chats can't solve Charlie's biggest problem: she's falling for Braden. Hard. She knows what it means to go for the win, but if spilling her secret means losing him for good, the stakes just got too high.
I Give This ...

I've read Kasie West's debut novel but haven't managed to get to anything else written by here (even the second book in her series). I've been interested in her contemporary work, so I decided this would fit the bill. Plus, I like the idea of the boy next door.
I liked Charlotte from the first few pages. I didn't really identify with her, but I felt her personality really jumped off the pages. I liked how at ease with her brothers. I liked that her dad gives her a challenge because to help her learn a lesson. Part of me does wish it would have been a little harder for her to find a job, but I enjoyed the job that was available to her. I think it taught her a lot about who she was, who she could be, and what she wanted.
Honestly, I wasn't sure what part of the story I enjoyed more...the boy or the job. You see, I think the job is a big part of the story her. Charlie didn't have to be just a tomboy. She was allowed to be feminine whenever she felt like it. But, she was so afraid that her brothers would give her a hard time. Her job allowed her to explore that side that I think she hadn't wanted to for a long time.
And then there's the boy. Braden is the typical boy next door. I love that he is so close to her brothers that there's really no separation to them and him. I think Charlie has always noticed him, but never give him much thought until they started their late night talks at the fence. But, Charlie has a hard time ready his intentions. She's never had much practice ready boys off the field.
I also enjoyed the two surprise twists in the story. One, I had a feeling about given the hints and dreams that Charlie kept having about the accident that killed her mom. The other one was a given considering Charlie has 3 older brothers. I'm sure they thought they were protecting her. Overall, I loved this story. I have another one of her contemporaries that I need to read as soon as possible.