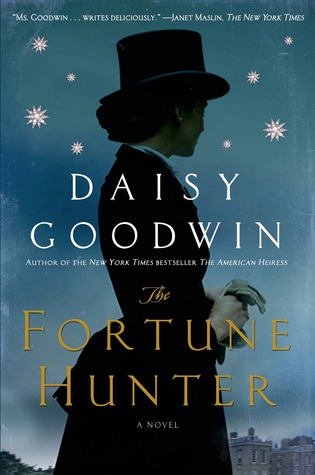 Title: The Fortune Huntter
Author: Daisy Goodwin
Series: Stand Alone
Pages: 480
Published: July 29th 2014 by St. Martin's Press
Source: Publisher for honest review
Description:
In 1875, Sisi, the Empress of Austria is the woman that every man desires and every woman envies. Beautiful, athletic and intelligent, Sisi has everything - except happiness. Bored with the stultifying etiquette of the Hapsburg Court and her dutiful but unexciting husband, Franz Joseph, Sisi comes to England to hunt. She comes looking for excitement and she finds it in the dashing form of Captain Bay Middleton, the only man in Europe who can outride her. Ten years younger than her and engaged to the rich and devoted Charlotte, Bay has everything to lose by falling for a woman who can never be his. But Bay and the Empress are as reckless as each other, and their mutual attraction is a force that cannot be denied.
I Give This ...

I've had Daisy Goodwin's first book on my to read list for awhile. So, when the opportunity to review this one came up I jumped on it. Now I see I need to make it a priority to read her first work. I enjoyed this book from start to finish.
I love period books. I often think and how I would act in a time period were women aren't allowed the liberties they are today. I would think that I would be a lot like Charlotte (or other character similar to here). While many is social circles found her odd, I thought she was charming. Yes, she may have been a little bit naive at times. She was young and probably been sheltered a lot due to her heiress status. But, she had a quick tongue on her that told others what she was thinking. Plus, I loved her love and talent for photography. I think that it would the only think that kept her mind of things.
I wasn't sure what to think of Bay for quite awhile. I never thought he was a fortune hunter. He seemed to be a man who loved to be in love. He fell easily and often. He had a charm about him that made women fall just as easily for him and not care about the risks associated with their affairs. I think he was also drawn to strong women, hence his attraction to the Empress. I think he realized way to late in the game that what he felt for Charlotte was real while what he had with the Empress was just infatuation. Unfortunately, it proved how deep he had gone that the Empress would not let him go to easily. In the end, I felt sorry for him. I don't think he deserved half the ridicule and shame he got, even if the situation was of his own making.
Our two royal figure were starch contrasts of each other. Our older Queen Victoria is so hard to grasp. She's has a way of lifting people up but at the same time making sure they know their place. Empress Sisi is almost reckless by comparison. Granted, she's not English so I don't think she ever thinks twice on how her favor of Middleton is seen by others. All she knows is that he makes her happy and she will have him no matter what the cost.
I completely enjoyed how this story played out. I enjoyed all our characters and how they interacted in both conventional and unconventional ways. I loved how the horses, hunt, and the Grand National Race were included. Now, I must read her first book!