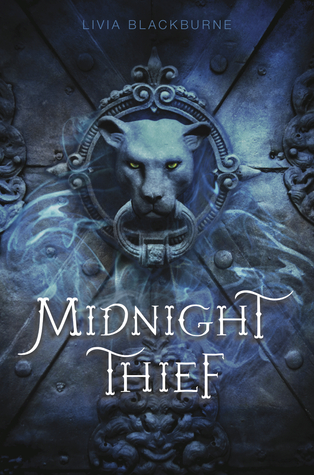 Title: Midnight Thief
Author: Livia Blackburne
Series: 1st
Pages: 376
Published: July 8th 2014 by Disney-Hyperion
Source: Publisher via Netgalley
Description:
Growing up on Forge's streets has taught Kyra how to stretch a coin. And when that's not enough, her uncanny ability to scale walls and bypass guards helps her take what she needs. But when the leader of the Assassins Guild offers Kyra a lucrative job, she hesitates. She knows how to get by on her own, and she's not sure she wants to play by his rules. But he's persistent—and darkly attractive—and Kyra can't quite resist his pull. Tristam of Brancel is a young Palace knight on a mission. After his best friend is brutally murdered by Demon Riders, a clan of vicious warriors who ride bloodthirsty wildcats, Tristam vows to take them down. But as his investigation deepens, he finds his efforts thwarted by a talented thief, one who sneaks past Palace defenses with uncanny ease. When a fateful raid throws Kyra and Tristam together, the two enemies realize that their best chance at survival—and vengeance—might be to join forces. And as their loyalties are tested to the breaking point, they learn a startling secret about Kyra's past that threatens to reshape both their lives. In her arresting debut novel, Livia Blackburne creates a captivating world where intrigue prowls around every corner—and danger is a way of life.
I Give This ...
This sounded like something that might be that it book, the one to rave about. For awhile it really was. I enjoyed so many aspects of this novel. But, somewhere in the book an event occurred and the story took a different turn. And one that just no longer resented with me.
I really enjoyed Kyra. Her ability to sneak into places undetected and leave the same way she came was fascinating. That part of the story really drew me in. I was hesitant when the Assassins Guild offered Kyra a place in their ranks. But, I wasn't surprised that she accepted the offer. I never felt it was about the money that was offered. It was all about being able to prove that she could do the job and all it's challenges. I think she also enjoyed skirting around those in charge without their knowing. A way for her to prove that she was more than just a street urchin.
I also really enjoyed Tristam. He's your poster boy for someone who fully supports whatever government is in place. To him, there's only black and white and no grey. So, I think it's really hard for him to admit that Kyra might have got the best of him. He never imagined that it was a women sneaking in and out without being seen. I also like that as he gets to know here, he realizes that not everything is as clear cut as it seems. That sometimes the good guy and the bad guy aren't always what you think.
So what happened? It's actually really hard to explain without giving away something that I think is suppose to be a surprise, although an intricate part of the story. Let's just say that there's something off about those Demon Riders and their wildcats. I could see it coming, but I kept hoping the story wouldn't go there. When it did, I was so disappointed. I have no idea why the story effected me that way.
It's likely that I won't continue this story. There are parts of me that are greatly intrigued. But, I was put off by an element of the story that might be to much to overcome.