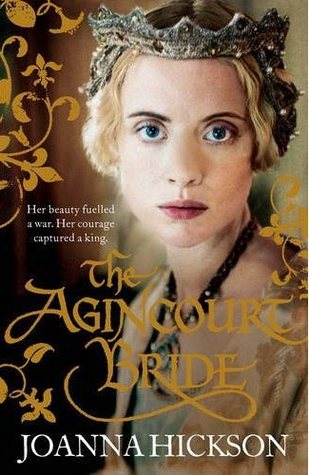 Title: The Agincout Bride
Author: Joanna Hickson
Series: 1st
Pages: 578
Published: January 3rd 2013 by HarperCollins
Source: Publisher via Edelweiss
Description:
When her own first child is tragically still-born, the young Mette is pressed into service as a wet-nurse at the court of the mad king, Charles VI of France. Her young charge is the princess, Catherine de Valois, caught up in the turbulence and chaos of life at court. Mette and the child forge a bond, one that transcends Mette's lowly position. But as Catherine approaches womanhood, her unique position seals her fate as a pawn between two powerful dynasties. Her brother, The Dauphin and the dark and sinister, Duke of Burgundy will both use Catherine to further the cause of France. Catherine is powerless to stop them, but with the French defeat at the Battle of Agincourt, the tables turn and suddenly her currency has never been higher. But can Mette protect Catherine from forces at court who seek to harm her or will her loyalty to Catherine place her in even greater danger?
I Give This ...
I've read another book recently about Catherine de Valois. Given that Tudor England is perhaps my favorite period in history, I've been eager to read more about the women who started it all. This was an interesting addition to my knowledge of the time period.
The beginning is almost depressing to read. I think one always thinks of the grandeur part of royalty. But, these children lived in horrible conditions as barely an after thought of the King and Queen. It's not until the children become a pawn in some way or another that they are given any thought what so ever. Mette feels she is the only stable figure in Catherine's life and forms a deep bond with the child. This was the only part of the story that troubled me. Mette seems to be willing to go to great lengths for Catherine, more so than even her own family. She gives reasons, but just couldn't agree with them.
I found the history to be the most interesting part of this story. Catherine had to witness a lot in her lifetime which I think explains a lot of how she reacted later in life. Her mother had little care for her. Her father didn't know she was most of the time. She was sent away in her early years to be given the proper upbringing when her mother was influenced by one of the Dukes. It seems it was always noticed what Catherine could do for France. She was often used as a bargaining tool for King Henry V to stop warring with France. In the end she was forced to choose between her brother the rightful heir to the throne and King Henry declaring war on France.
I fear the thing that really drug this book down was it's length. Granted I know this is a huge time period to cover, but it was very slow in parts and it seemed like the pages would drag on. However, that won't stop me from reading the next book in the series.