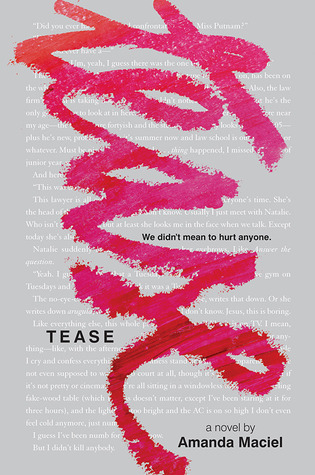 Author: Tease
Author: Amanda Maciel
Series: Stand Alone
Pages: 328
Published: April 29th 2014 by Balzer + Bray
Source: Publisher via Edelweiss
Description:
Emma Putnam is dead, and it's all Sara Wharton's fault. At least, that's what everyone seems to think. Sara, along with her best friend and three
other classmates, has been criminally charged for the bullying and harassment that led to Emma's shocking suicide. Now Sara is the one who's ostracized, already guilty according to her peers, the community, and the media. In the summer before her senior year, in between meetings with lawyers and a court-recommended therapist, Sara is forced to reflect on the events that brought her to this moment—and ultimately consider her own role in an undeniable tragedy. And she'll have to find a way to move forward, even when it feels like her own life is over.
This book was really hard for me to rate. It just goes to show you that its possible to enjoy a story and dislike the main character.
I thought this was an excellent book about bullying. In this day and age its a very real thing that is occurring everyday. It was emotional to read from cover to cover. I was floored over and over again at the tactics Sara, Brielle, and their friends display towards Emma. It's disturbing to think that teens exhibit this kind of behavior and think there is nothing wrong with it. In fact, even after Emma's death, they still continue to blame her for what has happened.
It's hard to like Sara at any point in time in this book. But at the same time, I think Sara might have been just as manipulated as Emma was. Brielle knew she was in command and how to get just what she wanted. She could warp the situation to make those around her believe that Emma really was the problem. Sara makes excuse after excuse for her behavior, never looking at her own actions.
I think this might become a must read for teens. It can lead to great discussion and show how the actions may make others feel. They may think they are doing no harm, but that is obviously far from the truth. I think this book can be paired well with Thirteen Reasons Why.