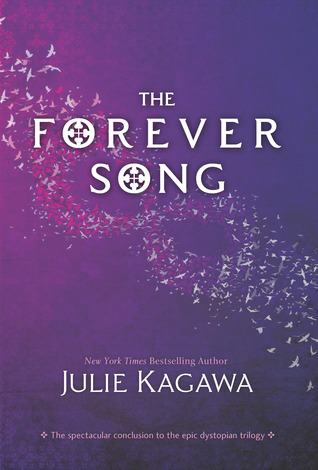 Title: The Forever Song
Author: Julie Kagawa
Pages: 393
Published: April 15th 2014 by Harlequin Teen
Source: Publisher via Netgalley
Description:
Vengeance will be hers. Allison Sekemoto once struggled with the question: human or monster? With the death of her love, Zeke, she has her answer. Monster. Allie will embrace her cold vampire side to hunt down and end Sarren, the psychopathic vampire who murdered Zeke. But the trail is bloody and long, and Sarren has left many surprises for Allie and her companions - her creator Kanin, and her blood brother, Jackal. The trail is leading straight to the one place they must protect at any cost - the last vampire-free zone on Earth, Eden. And Sarren has one final, brutal shock in store for Allie. In a ruined world where no life is sacred and former allies can turn on you in one heartbeat, Allie will face her darkest days. And if she succeeds, her triumph will be short-lived in the face of surviving forever alone. THE FINAL HUNT IS ON.
I Give This ...
The end of another great series by Julie Kagawa. It's always bittersweet. This series has been a great addition to the vampire genre.
I was a little afraid that Allison was losing herself for awhile. I knew the thought of Zeke's death would be hard for Allisoon. But, her humanity has been way to big a part of her. I never thought that losing him would cause her to loose faith in it. Thankfully she's not that way for long because she needs that spark to defeat Sarren. Her humanity is what makes her special and one of the reasons Kanin admires her so much.
Sarren manages to surprise me again with his sadistic nature. He knows just how to lure in Allison and Kanin. I felt like Sarren was just testing them most of the time. If it turned out he managed to kill one of them along that way, that would be just an added bonus. He wants them to know what he is doing and to be there to see him unleash his no virus and know that they can do nothing to stop it.
I felt the end was fitting for the whole story. It was one of the books that left me doubting until the very end. It wasn't a feel good happy ending though. just enough hope that the world can start anew.
Anxiously awaiting Julie Kagawa's next book!