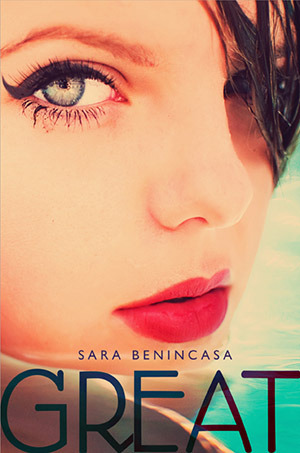 Title: Great
Author: Sara Benincasa
Series: Stand Alone
Pages: 263
Published: April 8th 2014 by HarperTeen
Source: Publisher via Edelweiss
Description:
Naomi Rye usually dreads spending the summer with her socialite mother in East Hampton. This year is no different. She sticks out like a sore thumb among the teenagers who have been summering (a verb only the very rich use) together for years. But Naomi finds herself captivated by her mysterious next-door neighbor, Jacinta. Jacinta has her own reason for drawing close to Naomi-to meet the beautiful and untouchable Delilah Fairweather. But Jacinta's carefully constructed world is hiding something huge, a secret that could undo everything. And Naomi must decide how far she is willing to be pulled into this web of lies and deception before she is unable to escape.
I was a little hesitant after noticing a couple reviews. But, I decided to give it a go anyway. I'm ended up really enjoying the story. Perhaps the fact that I've never read The Great Gatsby helps in that regard.
I found Naomi to be interesting. I wondered if she picked the opposite of what a socialite would wear, act, etc. just to see how far she could push her mother. It seemed like she didn't want to give this world a chance at all. It wasn't until an outsider latched on and pulled her into this world was she able to see that it might have something to offer her. She changes the way she dresses, donning the outfits her mother has filled her closets with. She starts to ignore her friends at home, instead complaining when Jacinta and Delilah begin to exclude her from their plans. It made her seem shallow at times, but I think she was just confused in how to meld these two sides of her self.
Jacinta was the character I never quite understood throughout this. She was expecting a lot in return for throwing a few wild parties. But, I think it goes to show that sometimes old grudges and impressions run dip and that it takes more than a few years and money to look past that. It was also a sad reminder that even the best of us are going to look out for ourselves when put under the light. It was sad to see how this destroyed Jacinta in the process. I wish she would have been stronger than that though.
I seem to be one of the few that thought this was pretty good. I sometimes think that putting in the category of a contemporary retelling of a classic can put a lot of pressure on a book.