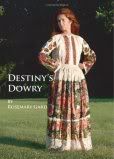 I give this book 3.5 Stars!
Description: In the lovely Croatian countryside of the late 1800's, a baby near death is taken away. Miraculously the baby survives. Sixteen years later Katya's dangerous journey takes her where she really belongs.
I have to be honest in saying I probably would never have purchased this book. But the description was enough to grab my interest in a giveaway contest on
www.goodreads.com
. I won! I've put off reading it because I was afraid I might not like it. When I finally picked it up to read, it grabbed my attention right from the start. The story is full of interesting characters and events. The chapters in the beginning are a little choppy and the story flow is a little weird once in awhile. But, it's not hard to follow. Some chapters do skip from present to past (and once in awhile future), but it fills in all the details nicely. The above reasons are why I give it 3.5 instead of 4 Stars. Overall, I'm very glad I won this book because it was a wonderful read.
Oh...and I was thrilled that the book I won was a signed copy from the author!