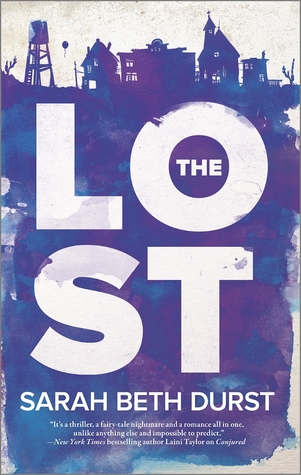 Title: The Lost
Author: Sarah Beth Durst
Series: 1st
Pages: 350
Published: May 27th 2014 by Harlequin MIRA
Source: Publisher via Netgalley
Description:
It was only meant to be a brief detour. But then Lauren finds herself trapped in a town called Lost on the edge of a desert, filled with things abandoned, broken and thrown away. And when she tries to escape, impassable dust storms and something unexplainable lead her back to Lost again and again. The residents she meets there tell her she's going to have to figure out just what she's missing--and what she's running from--before she can leave. So now Lauren's on a new search for a purpose and a destiny. And maybe, just maybe, she'll be found...
I've somehow only managed to read one other book by Sarah Beth Durst, even though I have several on my
to read list. This book is so vastly different from the other one I've read, that it's hard to believe that they are by the same author.
Before I started reading primarily young adult, I read a lot of mystery/thriller books. This book definitely has those vibes. It reminded me a lot of Stephen King, if he wrote for the young adult audience. When Lauren first finds herself in the town of Lost, I wasn't sure exactly were this book might head. Rapid animals, murderous drifters, a town folk whose friendliness changes in the blink of an eye are just some of the things that you will be treated to in this book. But, there's a lot of hope as well.
Lauren is an interesting person for our lead character. Like so many others in this book, she doesn't know what she has lost let alone how to find it again. For a lone time, she's in denial about all of it. Her repeated attempts to escape the town are fascinating. I felt like at this point she gave in to her fate and made the best of it. Instead of trying to pinpoint how she became lost she becomes content with her life in Lost. It isn't until the people she has come to care about start to figure out why they are lost, does she start to care about why she is.
I was also greatly intrigued by the abilities that Lauren seems to have while in Lost. She's not your ordinary inhabitant. She seems to also have the ability to find things that are lost. But, it's a dangerous job finding things in the storm. And not everybody is happy about her abilities.
I enjoyed the whole idea behind this story. The idea that there is a place were lost things go is definitely interesting and I think it plays out well here. I'm also excited to learn there is a sequel coming later this fall!