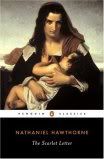 I give this book 2.5 out of 5 stars!
Description: Set in the harsh Puritan community of seventeenth-century Massachusetts, this tale of an adulterous entanglement resulting in an illegitimate birth engendered the first true heroine of American fiction.
I hate giving classics bad reviews. This book was not for me. Nothing captured my attention and I found that I had to force myself to read it. If it had been any longer I would have stopped. It did catch my interest a little in the end, but not enough to redeem the book in any way.