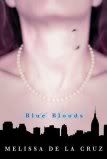 I give this 3 out of 5 Stars!
Description: When the Mayflower set sail in 1620, it carried on board the men and women who would shape America: Miles Standish; John Alden; Constance Hopkins. But some among the Pilgrims were not pure of heart; they were not escaping religious persecution. Indeed, they were not even human. They were vampires.The vampires assimilated quickly into the New World. Rising to levels of enormous power, wealth, and influence, they were the celebrated blue bloods of American society. The Blue Bloods vowed that their immortal status would remain a closely guarded secret. And they kept that secret for centuries. But now, in New York City, the secret is seeping out. Schuyler Van Alen is a sophomore at a prestigious private school. Suddenly, when she turns fifteen, there is a visible mosaic of blue veins on her arm. She starts to crave raw food and she is having flashbacks to ancient times. Then a girl from her school is found dead . . . drained of all her blood. Schuyler doesn't know what to think. Could those vampire legends really be true? Steeped in vampire lore and set against the heady backdrop of the rich, young, and powerful in the heart of New York City, Blue Bloods will be devoured by Melissa de la Cruzs legion fans.
I really wanted to like this book. The description sounded great. But, in all honesty the story was seriously lacking. I know it's a young adult book, but the story felt very childish. The plot was good, and the were areas of good filler. But, for main substance, it just wasn't there. It felt like it was missing some details. I did like the main character and enjoyed the spin on the history of the Mayflower and the lost colony of Roanoke.