So lately I seem to be picking up books faster than I can read them!  Here's what I've gotten in the mail and bought!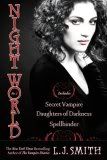 Night World Volume I (includes Secret Vampire, Daughters of Darkness, and Spellbinder) by L.J Smith
Vampires, werewolves, witches, shape shifters -- they live among us without our knowledge. Night World is their secret society, a secret society with very strict rules. And falling in love breaks all the laws of the Night World.
     In Secret Vampire, Poppy thought the summer would last forever. Then she was diagnosed with terminal cancer. Now Poppy's only hope for survival is James, her friend and secret love. A vampire in the Night World, James can make Poppy immortal. But first they both must risk everything to go against the laws of Night World.
     Fugitives from Night World, three vampire sisters leave their isolated home to live among humans in Daughters of Darkness. Their brother, Ash, is sent to bring the girls back, but he falls in love with their beautiful friend.
     Two witch cousins fight over their high school crush. It's a battle between black magic and white magic in Spellbinder.
I love combined novels!!  Especially when you can get them for the same price as one of the individual book.  Looking forward to this series!  I will probably review them as individual novels.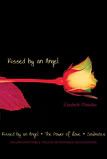 Kissed by an Angel(includes Kissed by an Angel, Power of Love, and Soulmates) by Elizabeth Chandler
An angelic romantic suspense trilogy in one volume!
"Kissed by an Angel": Ivy and Tristan have the love of a lifetime--until Tristan dies in a car accident. Tristan returns as an angel, but Ivy is unable to feel his presence.
"The Power of Love": Tristan has learned that the person responsible for the car crash is after Ivy. Can he cross the boundaries of life and death to warn Ivy that she is in trouble?
"Soulmates": Tristan must rescue Ivy, but if he does so his mission will be finished and he will have to leave his true love forever.
Another triology in one book!!  The cover is what brought me in (the original covers of each book probably would not have caught my interest)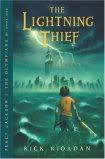 The Lightning Thief by Rick Riordon
Percy Jackson is a good kid, but he can't seem to focus on his schoolwork or control his temper. And lately, being away at boarding school is only getting worse: Percy could have sworn his pre-algebra teacher turned into a monster and tried to kill him. Percy's mom decides it's time that he knew the truth about where he came from. She sends Percy to Camp Half-Blood, a summer camp for demigods (on Long Island), where he learns that the father he never knew is Poseidon, God of the Sea. Soon a mystery unfolds and together with his friends, one a satyr and the other the demigod daughter of Athena, Percy sets out on a quest across the United States to reach the gates of the Underworld (located in a recording studio in Hollywood) and prevent a catastrophic war between the gods. But to succeed on his quest, Percy will have to unravel a treachery more powerful than the gods themselves.
I have a feeling I might drop all other books to read this one.  I hope its good.  I love mythology!!  That's what caught me on this book.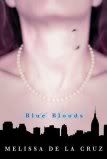 Blue Bloods by Melissa De La Cruz
When the Mayflower set sail in 1620, it carried on board the men and women who would shape America: Miles Standish; John Alden; Constance Hopkins. But some among the Pilgrims were not pure of heart; they were not escaping religious persecution. Indeed, they were not even human. They were vampires.The vampires assimilated quickly into the New World. Rising to levels of enormous power, wealth, and influence, they were the celebrated blue bloods of American society. The Blue Bloods vowed that their immortal status would remain a closely guarded secret. And they kept that secret for centuries. But now, in New York City, the secret is seeping out. Schuyler Van Alen is a sophomore at a prestigious private school. Suddenly, when she turns fifteen, there is a visible mosaic of blue veins on her arm. She starts to crave raw food and she is having flashbacks to ancient times. Then a girl from her school is found dead . . . drained of all her blood. Schuyler doesn't know what to think. Could those vampire legends really be true? Steeped in vampire lore and set against the heady backdrop of the rich, young, and powerful in the heart of New York City, Blue Bloods will be devoured by Melissa de la Cruz's legion fans.
Another vampire series...what can I say.  I'm a sucker for them lately.