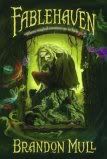 I give this book 4 out of 5 stars!
Description: For centuries, mystical creatures of all description were gathered to a hidden refuge called Fablehaven to prevent their extinction. The sanctuary survives today as one of the last strongholds of true magic in a cynical world. Enchanting? Absolutely. Exciting? You bet. Safe? Well, actually, quite the opposite...
Kendra and her brother Seth have no idea their grandfather is the current caretaker of Fablehaven. Inside the gated woods, ancient laws give relative order among greedy trolls, mischievous satyrs, plotting witches, spiteful imps, and jealous fairies. However, when the rules get broken, an arcane evil is unleashed, forcing Kendra and Seth to face the greatest challenge of their lives. To save her family, Fablehaven, and perhaps the world, Kendra must find the courage to do what she fears most.
While it's not Harry Potter or Twilight, I have to say I may have found a new series to enjoy that isn't finished yet!! I really enjoyed this book, devouring it in a little over a day. The characters are fun and interesting. I do wish more of the story was devoted to the creatures that inhabit Fablehaven because I'm sure the author barely even touched this subject. I can't wait to get the next one and learn more about Fablehaven, the creatures who inhabit it, and those who take care of it!