The past week has been one filled with books.  I don't normally have such an influx of books at once.   Today I received 2 in the mail from
www.paperbackswap.com
, I bought one at Costco, and I won one from
http://www.goodreads.com/giveaway
.  I also picked up 5 books at the local library booksale a few days ago.  I will post those at another time!  So for today's haul......
IN THE MAIL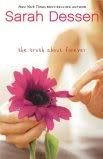 The Truth About Forever by Sarah Dessen
In The Truth About Forever, when asked how she is coping with her father's death, invariably seventeen year old Macy Queen's answer is "fine," when nothing could be further from the truth. In actuality, she is drowning in grief while maintaining a flawless façade of good grades and unblemished behavior. Though she feels lost when her boyfriend heads to "Brain Camp" for the summer, she finds herself a job with the quirky Wish Catering crew, and meets "sa-woon"-worthy Wes, whose chaotic lifestyle is in direct opposition to her own. As the two share their stories over the summer, Macy realizes she can no longer keep her feelings on ice. Though it feels like her future ended with her dad's death, Macy's learns that forever is all about beginnings. Dessen charts Macy's navigation of grief in such an honest way it will touch every reader who meets her.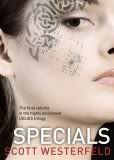 Specials by Scott Westerfeld
"Special Circumstances":
 The words have sent chills down Tally's spine since her days as a repellent, rebellious ugly. Back then Specials were a sinister rumor -- frighteningly beautiful, dangerously strong, breathtakingly fast. Ordinary pretties might live their whole lives without meeting a Special. But Tally's never been ordinary.
And now she's been turned into one of them: a superamped fighting machine, engineered to keep the uglies down and the pretties stupid.
The strength, the speed, and the clarity and focus of her thinking feel better than anything Tally can remember. Most of the time. One tiny corner of her heart still remembers something more.
Still, it's easy to tune that out -- until Tally's offered a chance to stamp out the rebels of the New Smoke permanently. It all comes down to one last choice: listen to that tiny, faint heartbeat, or carry out the mission she's programmed to complete. Either way, Tally's world will never be the same.
I BOUGHT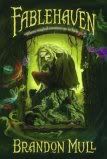 Fablehaven by Brandon Mull
For centuries, mystical creatures of all description were gathered to a hidden refuge called Fablehaven to prevent their extinction. The sanctuary survives today as one of the last strongholds of true magic in a cynical world. Enchanting? Absolutely. Exciting? You bet. Safe? Well, actually, quite the opposite... Kendra and her brother Seth have no idea their grandfather is the current caretaker of Fablehaven. Inside the gated woods, ancient laws give relative order among greedy trolls, mischievous satyrs, plotting witches, spiteful imps, and jealous fairies. However, when the rules get broken, an arcane evil is unleashed, forcing Kendra and Seth to face the greatest challenge of their lives. To save her family, Fablehaven, and perhaps the world, Kendra must find the courage to do what she fears most.
And I WON!!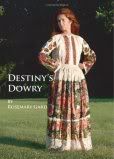 Destiny's Dowry by Rebecca Gard
In the lovely Croatian countryside of the late 1800's, a baby near death is taken away. Miraculously the baby survives. Sixteen years later Katya's dangerous journey takes her where she really belongs.
Not much of a description, but sounds interesting and hey it was free!